Oak and Pressure Treated Pine Board Fencing
If you like the traditional look of board fence, we offer installation of various designs, including treated pine, oak board, hemlock board, stained or painted board fence.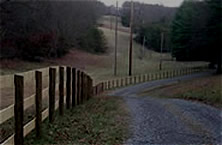 Professionally installed straight fence lines using a post driver

Quality pressure treated posts

Experienced installers

We can also stain your fence!
Installation Recommendations for Board Fencing
Most ground conditions allow us to drive posts with a post pounder. We recommend driving posts over augering because less ground is disturbed, keeping the fence stronger. With much experience in driving posts, we take great care and pride in ensuring that your fence line is straight and professionally completed.
We recommend using round 4 to 5" round posts instead of square posts because they are stronger and do not warp or break as quickly as some square posts can. There is also less surface area for water to lay behind a board, reducing the chance of boards rotting. We also sell oak and pine boards, and pressure treated posts to the do-it-yourself horse owners.