Centaur HTP® Fencing
Installed at our farm and our most recommended fence for horses, 5" Centaur HTP® has the traditional look of board fence, yet is far superior:
Flexes on impact

Will not shatter or splinter

Low maintenance

Designed specifically for horses

30 year limited warranty

Can be used in conjunction with electrified Hot Rail HTP®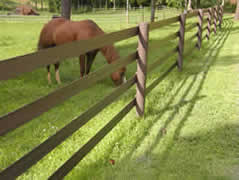 Centaur HTP® Fencing needs to be installed according to manufacturer's specifications in order to receive the 30 year manufacture warranty. This is because taking shortcuts in the installation of this premier fence will often result in pulled ends and corner braces. Properly installing this style of fence is essential.
We are factory trained Centaur HTP® installers and guarantee that our fence installation will meet Centaur HTP® warranty specifications. The installation process is not complicated, but we've seen many poor installations because fence contractors did not take the extra time needed to install it properly.

Centaur HTP® Q & A
How is Centaur HTP® designed?
The 5" rail is composed of three 12 1/2 gauge high tensile wires that are completely encased in Polymer. This continuous rail is designed to flex upon impact, making it significantly safer for horses than most other styles of fence. The wires are bonded to the Polymer, so they cannot pop out upon impact and injure a horse (unlike other generic brands.)
A patented "belt loop" bracketing system allows rails to slip through the bracket, dispersing impact. Special HTP® polymer brackets have a steel core that adds strength and durability. Unlike other generic brands, Centaur HTP's® brackets are Polymer coated, which are safer for horses and protect the rail from pinching and tearing. These brackets are virtually indestructible.
Visit the Centaur HTP® web site at www.CentaurHTP.com for more information.
Why Centaur HTP®?
(For detailed information on why we recommend Centaur HTP® click here.)
Long before it's time to replace a board fence, horses can do tons of damage to boards by chewing, cribbing, and rubbing against the fence.  Centaur HTP® fencing can withstand the strain horses put on a fence over time. 
Centaur HTP® has a 30-year limited warranty when installed according to manufacturer's specifications.  Oak board fencing may last around 12 - 15 years, but can be dangerous if it splinters, warps, or the boards pop off the fence. 
Visit the Centaur HTP® web site at www.CentaurHTP.com for more information.
Beware of look-alike brands
Centaur HTP® has a 30 year warranty. It has installations over 20 years old; this gives it a proven track record of performance over the long haul. The manufacturer has put extensive testing and research into their products, to guarantee their performance and customer satisfaction.
Some generic brands stamp a 30 year warranty on their products, but have had little time out on the field to prove it. We have seen generic brands that have cracked and not held up over time.
Centaur HTP® polymer is mechanically bonded to the wire. Since that feature is patented, other generic brands use a glue to bond the wire to the rail. This is extremely important to note because Centaur HTP®'s mechanical bonding prevents the wires in the rail from breaking free from the polymer and "popping out" of the fence upon impact. Due to time and fluctuations in temperatures, the wire in other brands can break free from the material, making it very dangerous.
How strong is Centaur HTP®?
Centaur HTP® is one of the highest quality 5" rails on the market. It has a minimum breaking strength of 4050 lbs. per rail and weighs 171 lbs. per 660 ft. roll. We have seen photos of automobiles rolling and hitting the fence, without breaking the rails.
Visit the Centaur HTP® web site at www.CentaurHTP.com for more information.
How expensive is it?
Although costs can vary according to the project's specifications, most Centaur HTP® fence installations cost between $1 and $3 more per linear foot than board fencing. However, board fence has a lifetime expectancy of around 15 years or less, while Centaur HTP® has a 30 year limited warranty. In the long run, Centaur HTP® will almost always cost less than board fencing. Vinyl PVC fencing is almost always more expensive than Centaur HTP®, and not as safe for horses.
What does it look like? Centaur HTP® looks similar to a painted board fence or rigid vinyl fencing, except that it is much safer and designed specifically for horses.
Why have Ranck's Quality Fencing install it?
Because Centaur HTP® is concerned that the fence is installed correctly, in order to receive the warranty on this product the installation must be completed according to their specifications; photos of the installation process must also be taken through the installation. We take great care to install the fence according to CentaurHTP®'s specifications and are factory trained installers. The strength and beauty of this fence depend on proper installation.