Estate Gates and Entry ways

Driveway Gates
Allow us to custom design a beautiful entryway to your home or farm. We can install aluminum, ornamental metal or wood gates with custom stone or brick pillars.
Solar or electric lights can be installed on the pillars to light up the entrance and provide a warm welcome to visitors.
Driveway Alarms
Driveway Alarms are also an inexpensive way to alert you to any vehicles or pedestrians that enter your driveway. Several alarms can be installed with one system. For example, when a vehicle enters your driveway, an alarm can sound both at the house and the barn.
Automatic Gate Operators
Automatic gate operators are increasing in popularity, even for the average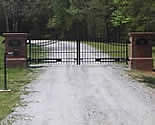 homeowner. An easy way to increase security, gate operators help control who comes into your property, protecting children and your family from intruders and unwelcome visitors.
Automatic gate operators can be set up numerous ways and custom designed for each homeowner's needs.
Access from the Internet
Operate and program the gate from the comfort of your home or any computer with internet access
Phone entrance system
Anyone wanting access to your property can contact you by pushing a call button at the gate and you can screen the visitor using your phone in your home, garage, horse barn, or wherever!
Safety Features
Gate operators need to be safe, especially for children, and prevent damages to vehicles. We install our gates according to the UL325 standards, covering the safety of gate operators and regulating the safety devises required according to the classification of it's use (residential, commercial, and general access, industrial access, limited access, restricted access.)
SOS (Siren Operated Sensors)
SOS sensors can be installed for emergency personnel, allowing quick access during an emergency.
Call Forwarding
Call forwarding is available to your cell phone, business phone or any other phone you choose, allowing you to open the gate while on vacation, at work, or anywhere you have phone reception.