Virginia Stack Rail Fencing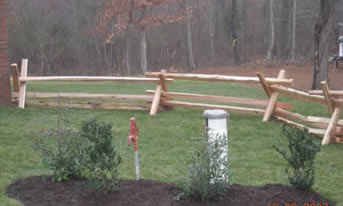 Also known as snake fencing or zig-zag fencing, stack rail fencing is a traditional wood fence. It was popular in early Virginia among farmers and land owners looking for a way to contain their animals in a time when pressure treated posts were not yet available. This popular fence can be seen along the Blue Ridge Parkway and Appalachian mountains and is a beautiful reminder of a simpler time gone by. Many landowners find this historical fencing appealing and seek to recapture its look of long ago.
The History of Stack Rail Fencing in Virginia
"The post-and-rail fences stretching across the fields lying between us and the enemy's position, I regard as the fatal obstacle to our complete success on the left, and success there would, doubtless, would have changed the fate of the day. Of the existence of this obstacle none of my division had any previous knowledge, and we learned it at the expense of many valuable lives." General John Walker, Army of Northern Virginia
Also called Stack Rail, Zig Zag, Appalachian Rail, and Worm Fencing, Virginia Snake Rail Fencing has decorated Virginia and American farmland for centuries. Especially in the rocky Appalachian and Blue Ridge Mountain region, this style of fence was very popular for centuries. Back then, posts could not be pressure treated as they are done today in order to preserve them. To avoid planting posts in rocky ground that would rot quickly, many homesteaders installed stack rail fencing or some configuration similar to it. Although it took considerably more wood than a split rail fence, it was easy to install. Rails that rot out are easily replaced, the fence was strengthened by it's zig-zag configuration.
The state of Virginia was primarily a "fence out" state, meaning that landowners were responsible for fencing out neighbors animals, rather than the other way around. Many livestock owners had communal grazing areas. Stack Rail fencing dotted the landscapes of Virginia back then, and still do today. There is nothing as beautiful as driving down the Blue Ridge Parkway and Appalachian Mountains to look at this style of fence criss-crossing the quiet, rolling farmland.
Installing Stack Rail fencing at your home is a great way to preserve a part of the past and lend a beautiful rustic look to your home and farm.