Vinyl Residential Fence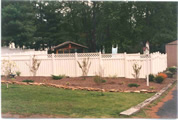 Vinyl privacy and Vinyl picket fencing is an excellent choice for homeowners looking for a maintenance free fence that will last.
When looking at your options, be sure to check into the warranty. Many box stores carry vinyl products that do not have a warranty and will not hold up over the long run.
Poor quality vinyl fencing can crack and become brittle in the winter and discolor in the summer. It is important to find a quality vinyl fence that has a long-term warranty, plus locate a reputable fence contractor to install it. We've been installing vinyl fencing since 1999.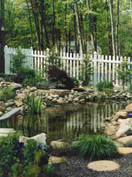 We install privacy fence, picket fence, ranch style vinyl fence and pool fencing. Our pool fencing will be installed to pool code in your county or jurisdiction.
We install vinyl fencing that has a lifetime, transferable warranty or 20 year warranty, depending on your preference. We also install all posts in ready-mix concrete. This is absolutely critical if you want your fence line to look nice over the years.